DAMOC Cooler solution for point of purchase and point of sale applications. Low maintenance condenser and tested and certified.
Digital Cooler is truly a turn-key solution with all required technology and hardware included.
Industry Leading Free Bar top Cooler. Custom Branded Graphical Wrap.
Ability to run content and video 24 x 7. Industrial rated PC for continuous operation.
The digital content allows consumers to engage with brands and it can be updated remotely in real time for special offers.
In order to expand marketing and branding activities, the customer can use the complete front door to show picture, video, logo and current offer or even do an interactive lie social media.
DAMOC Cooler creates immediate engagement with the product and enhances your brand narrative.
Technology that allows for the product to interact with proprietary.
DAMOC Cooler elevates a cooler to an advanced digital device; it's sleek design frames the transparent LCD screen, to celebrate the digital content and products inside the cooler.
The Smart Cooler back cabinet and door are designed for easy disassembly, refurbishment and re-use. The design also allows updating with future electronic components.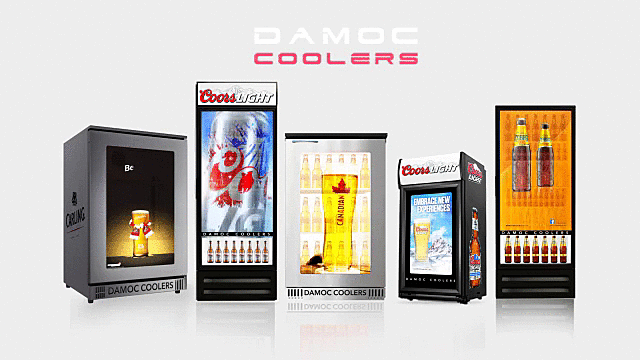 DAMOC™ Transparent LCD Display Refrigerator door is designed for indoor use at Convenience and Grocery stores. This "high-performance" Digital TLCD Display replaces the conventional door glass with a transparent display assembly that allows for normal viewing through the glass, but with the ability to run video content in a "see through" manner.
This innovative product has been developed by DAMOC™
The DAMOC™ Display System is comprised of three major components:
The Transparent LCD
A direct replacement LED lighting system, including required power supplies, mounted on the rear of the cooler door frame which provides sufficient front illumination of the merchandise displayed in the cooler to make it highly visible thru the TLCD.
The DAMOC™ CMS Server.

Signage's interactive and networked screens offer brands the opportunity to integrate all their media activities
The screens offer brands the medium to integrate their branding activities at the location where their DAMOC™ is present

The combination of the right locations, customised creative and cutting edge technology enables to become the centre of all brand activities
Leveraging cutting edge technology we control and monitor our screens from a central location and uniquely program them to minimise spillage